Welcome
In March of 2008, we were approached by an elderly couple to buy their farm and take care of them. Jimmy, the elderly man, stole our hearts and we had a blast with him building a dream. We chose to build my dream home, a one room small home with no electricity or indoor plumbing. Chris and myself, along with my daughter Amanda and Jimmy began building the home. We got help from my other daughter and son in law, Shannon and Tim, Lakota our granddaughter and even the grandsons Perrin and Devin. Perrin was 3 at the time and was there every day building the dream with us. It was hard work, tiring and tons of fun. We had never built anything in our lives, yet we were successfully constructing a house that would be the future for the family. Unfortunately, In May, we discovered Jimmy had stage 4 cancer and was terminally ill. He was placed in the hospital and we were left without a leader. His brother, Don, showed up out of the blue when we were stuck trying to figure out how to build a roof! He stepped up and took over as leader. Those two men taught us more about building a house, and love, than anyone in our lives. We moved in the end of May 2008 and instantly loved our non electric life. We had struggles, made a lot of mistakes and had some successes. We kept a journal of the experience and you can find it here on this website under "Where We Came From". Sadly we lost Jimmy in August. Even more sadly, I never pressured him to get the paperwork done on the purchase of the farm, as he was so very sick and I loved him dearly. I figured his wife would pick up where he left off. That was a horrible mistake on our part, as she informed us in October that she had changed her mind. As devastating as it was for us, emotionally and financially, we had to pick up the pieces and move on.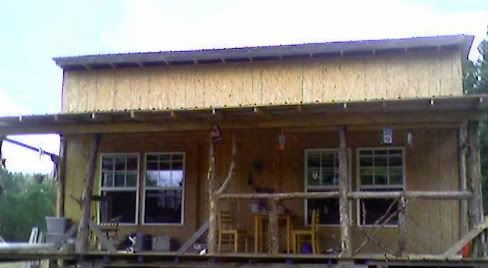 When we realized we were going to have to move on and leave our dream behind, it broke our hearts. All of the hard work on the house, building it by hand, the struggles and memories…would all have to be put in the past. Chris and I had a tough decision to make. Would we go back to living a life with electricity, one year after cutting that cord? Or would we choose to continue the lifestyle we had grown to love. Our decision took only a few seconds, we had no desire to give up the lifestyle. Where we were going to continue this choice was another problem. We had devoted all of our savings and everything we owned to building the one room home. We suddenly found ourselves without a home and without any savings. We went back on forth with options, to buy a place with my daughter, to buy a small piece of land and build from scratch, to try to restore half built cabins, or just give up and go live in a cave. We were heart broken and had lost all hope of a future and happiness.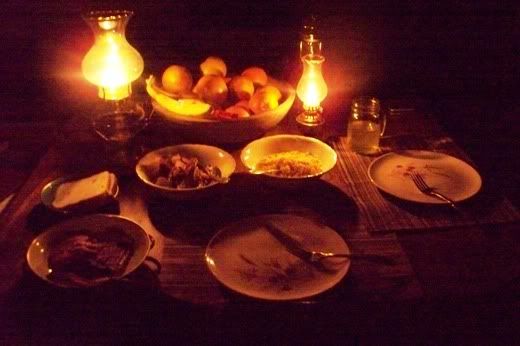 Fate brought us to a 100 year old farm in a nearby county. I fell in love with the farm right away. The house was built on stacked up rocks, it had a root cellar, Spring, barn, streams and an old 100 year old farm house. All of it was in dire need of attention, repair and lots of love. Over a month passed and more hearts were broken, things fell through, plans changed back and forth and February through the end of March 2009 was nothing but an emotional roller coaster for the entire family. Eventually, through many sleepless nights, worries, fears and tears, we made the decision to buy the farm. It is almost 15 acres and with hard work would be enough to sustain us and the immediate family from now on. So this is where we begin the journey of bringing the farm back to life. You will find many entries in that section on our day to day life, fixing up the home, the Spring, Barn and root cellar. We plan to have a garden this year and possibly get a few pigs. Who knows what life will bring to us. All we know for sure is, we are looking forward to the journey and we are glad to be moving forward once more. Be sure to check out the section on meeting the family, where we have pics of ourselves, family, friends and neighbors who have helped us along the way. But most of all WELCOME….to our home, our farm, our lifestyle.In the tabs on your right, you will see "Where we came from" which describes the struggles we endured with the house we built and the end result of that situation. "Daily Journal" is where we let go of some emotions we were dealing with at that time. "Bringing The Farm Back To Life" is the section on finding the current farm and restoring it to a livable condition. This is the section we put all of the current posts and pictures of our life today as we continue to live the non electric lifestyle.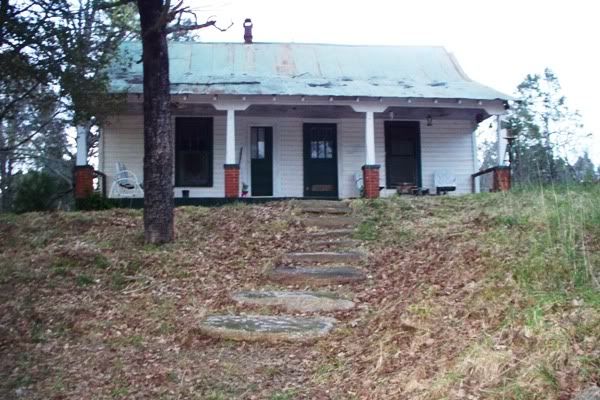 Chris and Cyndi